Find out about life as a director of video production and why Megan McDonough's colleagues and clients love her
Get to know Megan McDonough, director of video production and winner of the Leader of the Pak award. What's life as a Yakkety Yak video producer like? Megan shares her favorite projects, aspirations for the future and more. Plus, hear what team members had to share about her leadership qualities and work ethic.
Q: How long have you been working at YY?
A: At the beginning of this year, my video production company Kindred Content was acquired by Yakkety Yak, who were longtime partners/collaborators of ours. So I've been a Yak for about 5 months now! 
Q: What is your title and what do you do on a daily basis at YY? 
A: As director of video production, I'm ultimately responsible for all of the company's video output, from monthly social content to paid media campaigns to large-scale virtual event production. That may seem like a daunting task, but I have a truly amazing team who bring a ton of talent, passion, and hard work to everything they do!
Q: What meme or gif really speaks to your daily job at YY? 
A: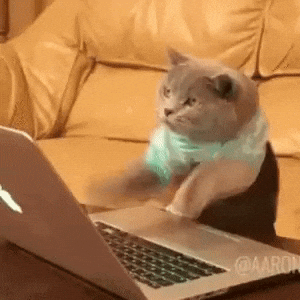 Q: What has been your favorite project at YY so far?
A: I really loved working with the Brookfield Zoo on videos to support one of their biggest annual fundraising events. We got to zip around the zoo on golf carts, see some incredible animals up close, and get a behind-the-scenes look at how deeply the keepers care for their animals. 
Q: Are there any other projects you are particularly proud of? 
A: Technically these were done before I was a true member of the Pak, but I'm super proud of the work we did together for the American Migraine Foundation. Combining a cinematic visual theme with documentary-style content is one of my favorite ways to give viewers a visceral, metaphoric insight into others' experiences. 
Q: Where do you draw your creative inspiration from?
A: I'm inspired by storytelling in all its forms, and always have at least one book going with a queue of movies, podcasts and music right behind. Most recently I've enjoyed reading "The Water Dancer" by Ta-Nehisi Coates and watching Oscar winners "Minari," "Nomadland," and "A Promising Young Woman." "Radiolab" and "Invisibilia" are my go-to classic podcasts, and I enjoyed Dolly Parton's "America" during a recent road trip. And really, travel is my ultimate inspiration. No matter where I go, my favorite part is always meeting people and hearing stories along the way. 
Q: Anything you haven't had the chance to do in your career that you would love to do?
A: I've worked on narrative feature films and so much amazing documentary-style content over the years, but have never worked on a full-length documentary. Having the chance to tell a story distilled from months or even years of diving deep into certain people or subjects–that would be a dream! 
Q: Anything else you want to share?
A: I suppose I could share my work/life philosophies! Essentially: cultivate curiosity. And be kind!
Here's what the team had to say about Megan McDonough: